Performance. Value. Reputation. Know-how

The very latest in pottable patient monitoring, Passport * V makes its debut with a foundation tooted in expettise and knowledge, and most importantly centered upon the user's expetience.

Following a patient-centric philosophy, Passport V delivers unsurpassed ease-of-use so that your attention may remain focused on your patient. With enhanced capability, more optional features and extraordinary value, Passport V will be an asset to any healthcare environment requiring continuous physiological monitoring.

Depending on your patient population, Passport V comes configured as you'd like - with just the levél of monitoring you need to best care for your patients. Like previous portable monitors, it is available in a variety of versions, depending on your capability and technology preferences. And with the ability to display up to eight waveforms, Passport V can perform physiological measurement on even your more challenging patients.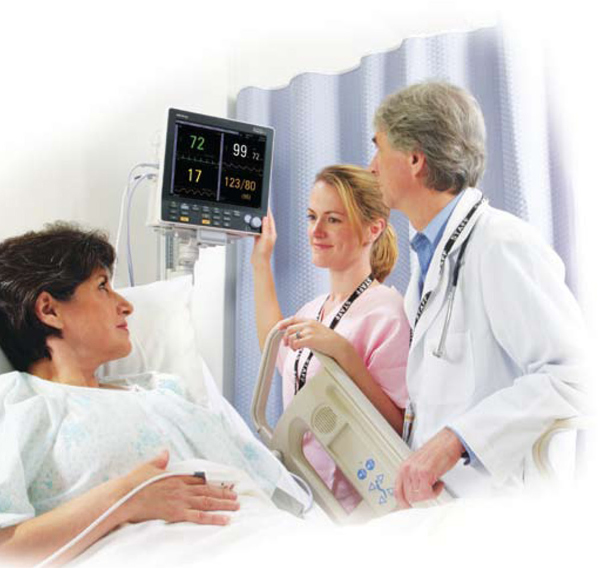 Who knew simplicity could be so sophisticated?

Offering a comprehensive range of options, Passport* V is well-suited for most hospital departments. Specialty areas such as GI/Endoscopy and Labor and Delivery will appreciate the flexible feature-set including your choice of CO2 and SpO2 technologies. Additional offerings such as multiple invasive pressures, external device interfacing and a secondary display solution are also available for increased monitoring of your more eritica I patients.

Careful consideration was taken to create an interface that is straightforward and predictable, enabling you to easily perform functions and optimize the presentation of patient information. Our continued commitment to simplicity ensures that your learning curve will be brief which means more time spent with your patients.

Passport V features many of the innovations you expect from our monitors such as single-touch quiek action keys and the Navigator Knob used to swiftly move the cursor within and between menüs. Expansion of monitored parameters is automatic, so as you add or remove patient cables, the display will adjust accordingly. Also worth noting is the large, vibrant display with vivid colors that allows you to quickly assess patient data.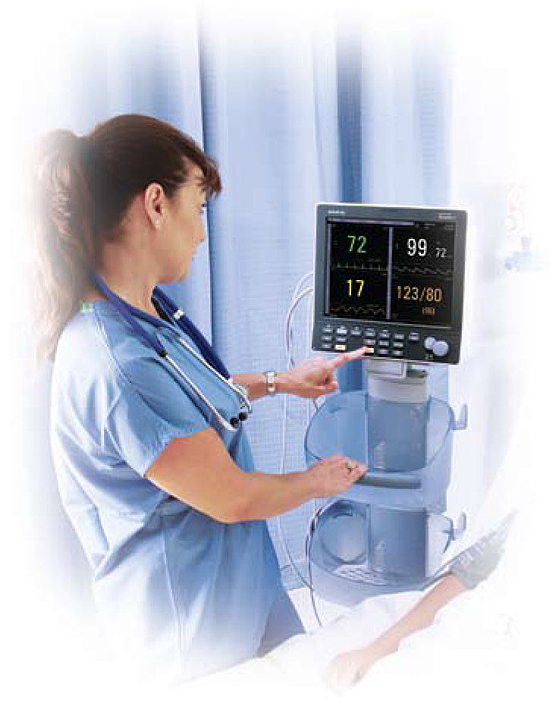 Passport V - a vital part of your integration plan.
Today, more than ever before, the choice of monitor extends beyond just the device itself; equalty important is the ability of the device to fit into your long-term data integration plan. Passport V supports wired and wireless networking capabilities enabJing patient data to continuously and seamlessly integrate to the Panorama* Patient Monitoring Network. It may alsó be combined with the e-Gateway Integration Manager" to create a powerful data management solution.Together these devices can handlé the timely and accurate acquisition, integration and distribution of patient data to an EMR of your choice.


Here for you when you need us most.

To allow you peace of mind when caring for your patients, Passport V is backed by our outstanding team of professionals comprised of direct field service, technical service, customer service and clinical education specialists. This nationwide network of resources is available to support you every step of the way, so you can spend less time worrying about your equipment and more time on what matters most.

With 24-hour, 365-day on-site service and extended warranty programs, we can help to protect your equipment investment well into the future.

Passport V delivers an impressive combination of features and technologies.


Standard product offerings include:

-12.1"colorLCD
-3 to 8 waveforms with automatic configuration
-Enhanced numerics mode
-3 or 5-lead ECG with or without ESU noise rejection
-Non-invasive blood pressure
-Masimo SETS SpO2
-Lead-selectable respiration
-Continuous temperature
-Drug calculations
-96 hours of graphic and list trends
-128 minutes of Oxy-CRG trends
-Remote view with multi-bed alarm notification
-ECG and IBP analog output
-Device connectivity via DIAP and ethernet
-Intra-aortic balloon pump interface
-Nurse call interface
-Defibrillator interface
-Integral carrying handle
-Front-panel alarm light
-Lithium ion battery support
-Color-coded patient connectors
-Connectivity to secondary display


Advanced, optional product offerings include:

-Dual invasive pressures
-Arrhythmia analysis
-ST analysis
-Nellcor® OxiMax® or DPM SpO2
-Integral 3-trace recorder
-Microstream® advanced low-flow rate or DPM C02
-Gas Module 3m with 5-agent ID, C02, 02, and N20
-Wireless telemetry
-Panorama® Central Station
-e-Gateway Integration Manager™
-Lithium ion batteries
-Storage device for transfer of patient data and settings
-Mounting solutions